I just obtained one of my grails. And like my Aldens, I'm going to wear it as much as I can.  LA weather permitting.
But honestly, it's less about the grail itself and more so the concept of it. The concept of the best sportcoat you could have, besides the navy hopsack!
There are quite a few things that I obsess over within menswear, both vintage and classic: nice unlinedspearpoint collars (that are striped obviously), purple socks, Alden loafers, soft shoulders, and vintage abstract foulard ties just name a few.  And thanks to years of collecting and working in the industry, I've been able to obtain most of these pieces.  In short, I've made great strides in dressing exactly  the way I want to, mixing in cues of vintage and contemporary style!
Brown is Cool
You may remember how much I've been obsessed over the color brown.  There's just something so cool about the color! It's deep yet saturated with color, making it similar to navy in that sense (I don't fuck with grey that much because it's boring), ultimately laying more on the casual end of the spectrum simply because brown is a "country color". It really just was something that I knew would go with everything in my wardrobe, furthering my slouchy/casual menswear narrative.  Because it was a pretty rare thing to find in vintage and modern RTW (especially in an LA-suitable cloth), it was a grail-obsession for a while.
It's one reason how through my 1950's Brooks Sack Suit and a 1930's suit, I was able to live my fantasies, even a bit.  They're great pieces, but in retrospect, just a bit too vintage in cut to work with my evolving style.  Then there was a Suit Supply flannel one that was perfect until I realized I wanted a 3-roll-2 and a definite high rise trouser.  Of course, I later got a MTM brown cotton suit from my friend Dave this past year that I definitely love wearing   But nothing compares to the ease and simplicity of a sportcoat, since it's inherently more casual and versatile than a full suit.
Thanks to a Japan trip and a direct visit to Ring Jacket Aoyama, I was able to actually get a solid brown sportcoat.  It's a perfect complement to my navy hopsack, providing a vintage appeal since like I said, brown is a rare color that immediately seems rustic and old (brown = wood makes sense right?).  It was almost perfect, but I still found myself reaching for something else in my mind…
Brown Checks Are Next Level
The truth is that solid sportcoats can only get you so far.  Just like how a navy sprotcoat is great, the real expertise and fun comes with a patterned one! This is especially true for me since my roots come from vintage menswear rather than trad-ivy (which takes pride in it's solid navy jacket).
When you look at vintage illustrations dressers, you'll see that they embraced patterns in their tailoring way more than guys today.  No, this doesn't mean Hannibal or Pitti Peacock of boldness; it was all tasteful and rather well done.  They also wore much more brown, but maybe that's because a brown jacket was the main way they could dress down since they didn't have much in the realm of casual style (of which we have so much today).
The checks of all kinds (plaids, PoW, houndstooth) are inherently more casual than solids or stripes, so their use in conjunction with brown (the casual color) was just so harmonious.  It just had this charm that awakened an obsession with in me.  It didn't help that the best ones were pretty rare even in vintage collecting and that all the best guys in the vintage community had a few! It just looked so slouchy and yet intentional, since you needed to needed some style prowess to wear it effectively, especially with striped shirts and patterned ties. It also has the ability of looking vintage without being too costume-y (if done right).
Each of the weaves and patterns had their own appeal to me. Houndstooth on a tan jacket or a Windowpane had a very "Hollywood Actor" vibe while more complex plaids or Prince of Wales (especially with a burgundy overcheck) had subdued approach.  I actually am not a fan of herringbones, since it seems too close to solid colors and can lean too far into the English-professor meme territory.  Overall though, I knew brown checks was what I wanted, with plaids taking the top place since they worked better with foulards (houndstooth with small print ties is a bit too distracting).
Every fall/winter season brings the same longing, because it's so perfect for the weather (though the true grail would be worn year-round).  Yes, having a brown sportcoat is cool, but checks are decidedly more fun! But having both is even better! It was just so unfortunate that I couldn't find one, due to the period styling (low button 1950s ones were a no go) and the heavy non-LA fabric.  But fuck, these pictures were so intriguing.  I think they really show you the versatility of how good brown checks can be, across all types!
Modern Boys Do it Too
I expect those of you reading this from Reddit (or who happen to stumble upon it randomly) to not be swayed by the period pictures.  "It still looks costume-y!", I can hear you say.  Well no matter, because I'm providing some modern inspiration as well.
You can see that brown checks still have a place in menswear, still giving off that "vintage throwback vibe" with updated silhouettes (namely in the softer shoulders). It may not be rapidly available in mall brands or even at places like Suit Supply, but seeing the Armoury boys or Drake's wear it simply anchored in the fact that brown checks are incredibly versatile and fun.  It really looks like it could be the third sportcoat you get, after navy and brown.  Some people say grey checks, but grey doesn't have the same depth, rustic vibe, and color palette that brown does.
Personally, I tend to err closer to dark/chocolate brown checks rather than light or grey-hued ones, but thats because I just love how versatile a dark shade can be,  freeing you up to have more fun with shirts and ties; in all cases, a grey trouser, khaki chino, or denim jean will take the pant place anyway.
In my incredibly biased eyes, all I could see was the opportunity to bring 1930s inspired style into the modern day. All I needed was to fucking get one of these jackets, and seeing all these amazing jackets (now in a modern context) wasn't helping the obsession. I blame Drake's especially, because they seemed to bring great brown checked jackets in every season!

Mine
If you know me well, you'll know that I've been searching for a brown checked sportcoat for a long time, even before I started this blog. It's been a continuing journey, but I've gotten close a few times!
This 1940's houndstooth jacket was one of my first vintage odd jacket purchases ever, bought for only $90, which was a steal considering its great condition!  At the time, I was just looking for brown odd jackets and this fit the bill, echoing those houndstooth illustrations I had scoured Tumblr for.  It also has the perfect shape of lapel, which is another thing I consider an "Ethan obsession"; the 3-roll-2 and giant patch pockets were an unexpected surprise for when I made the shift into ivy.
It certainly is a beauty, being quite literally a piece of vintage style in the modern day (helped by the fact that I removed its shoulder pads).  Despite being a period cut, it works well today, as many contemporary guys still commission houndstooth jackets to great effect.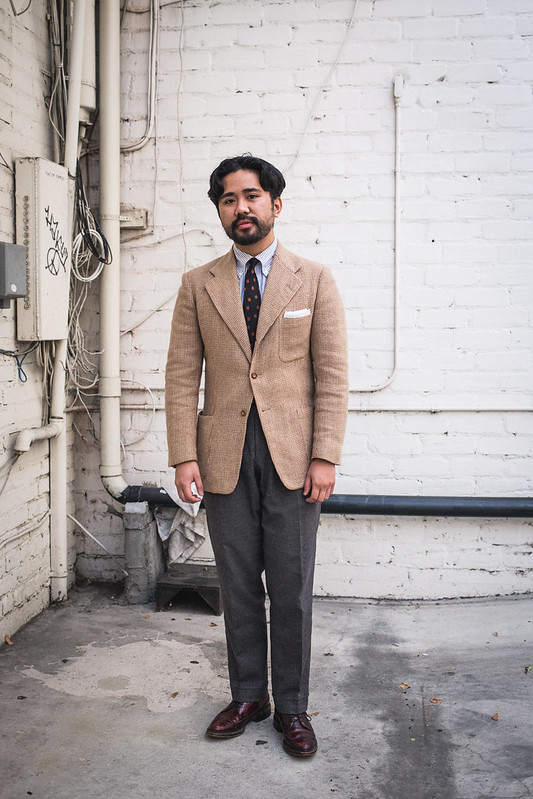 I love wearing this jacket, but I find myself hesitant a few times due to its tight pattern and light shade.  The former can be tricky when it comes to picking ties as I prefer a foulard over a solid knit or repp in most cases. The latter comes into play when picking trousers; I don't think this jacket works with chinos (maybe if it was darker though).  As a result, it wasn't the perfect jacket, though it fulfilled everything I wanted from a houndstooth jacket.
I got my first real taste of a brown plaid jacket with a 1970's Brooks jacket, purchased from my friend Sean Crowley in Brooklyn.  It's made of a soft tweed that almost feels like flannel, featuring a light brown base with a burgundy-ish plaid.  It was definitely not the dark brown I considered a grail, but it was definitely a great first step that I knew would serve my wardrobe well! And if you've followed me since Dec 2017, you'll know that I wear this jacket a lot!
Like most great ivy jackets, it has a medium width lapel, 3-roll-2 closure, a hook vent, and hip patch pockets that have a flap. The fit is nice, with a slightly extended shoulder and full chest, echoing the Ring Jacket x Armoury models.  My sportcoat is pretty damn great, going with almost everything in my wardrobe; the plaid pairs well with pattern mixing while the cloth plays with denim shirts and pants all the same.  Even though it's a lighter shade than what I really wanted, it's fine worn with khaki chinos all the same.
Overall its pretty similar to a lot of the jackets I showed off above, both contemporary and vintage.   I ended up getting more checked tweeds since 2017, but they weren't brown, though they were welcome additions to my wardrobe!  Don't worry, I was keen on keeping my eyes open for the right one.
Obviously tweed isn't going to work year-round here in LA, so I started narrowing my search. It was tough to say no to certain eBay finds or even Ring Jacket on Grailed, but I wanted to be intentional in my clothing, and my winter wardrobe was at capacity! Finding a summer weight brown plaid jacket was incredibly hard, considering most brands (especially affordable ones) go for light shades in the spring/summer. But to my surprise, Spier & Mackay came in clutch this past year.
I had already tried out their navy hopsack jacket in the Neapolitan cut and loved it, so it was an easy choice to go for this, their E. Thomas Rust Check jacket.  It was one of a few checked jackets that they brought out for spring-summer and the closest they had to what I wanted from a patterned sport coat (I don't like blue-grey-toned gunchecks, which most people make). It bought it around this time last year during a final sale, so I got it for a very good price! The jacket is wool-silk, which is light enough to be worn until early fall. It still was a bit tricky to pair, but I liked the challenge!
Alas, they didn't have a one in a dark brown or a traditional plaid; maybe non-bespoke or high end menswear has a few predilections against looking too vintage. Or maybe they just think that those kinds of plaids are better on heavier fabrics like tweed, which I certainly understand.
The jacket again is on the lighter shade, but I was so enamored with the color and check that I didn't mind. My friend Aldous cautioned me against it since to him, it looked like a "used car salesman" jacket, which I sorta liked.  It definitely has that retro appeal that I knew would work with what I had in my wardrobe.  If it was just a couple of inches closer to the "chocolate brown" part of the spectrum, it would have been 100% perfect.
I still wore it plenty of times this past spring-summer and it only fueled my desire for the absolute grail I had been waiting for.
The Grail
The closest I ever got to my grail (in an affordable and LA-wearable range) was during my visit to Ring Jacket where I tried on their brown plaid in the breathable Balloon. Unfortunately, the color was much too grey for my taste and as you saw, I already had too many light brown jackets; anything else I buy, whether for summer or fall, would have to be dark brown! Intentional was what I said, right?
Spier seemed to be listening to me and in their latest fall/winter drop, they released a brown plaid jacket. This time, it was what I was looking for: a darker brown base and gentle plaid in their Neapolitan cut.  There was no burgundy overcheck to make it a PoW, but that was fine; it would be a bit more muted and versatile, which was fine with me. The flannel came from Fox Brothers, which is probably one of the best English mills, reknowned for their taste.  On repeated viewings, I actually think it was a close match for that Anglo-Italian jacket I showed earlier.
I was heavily considering it, as it was a good jacket for shoulder weather in LA and not being as heavy or scratchy as my tweeds (which I always pushed my self to wear here).    I knew that it was going to be soft, elegant, and expensive and the listing proved me right, listing it at $500. I didn't know if I wanted to spend that much on a cold-weather sportcoat, considering I also just bought a dark brown cord suit (more fuel to the brown tailoring-fetish fire).  But capitalism reared it's ugly head and a Black Friday sale knocked the price down to $400, which meant I couldn't say no. Two weeks later (shipping and a sleeve alteration), I had the grail.
Here's where you can see it in its full glory.  As you can see from the above picture, the jacket really does appear solid from afar, only revealing it's subtle plaid when you get in close. This makes it perfect to wear with my trademarked striped shirts and solid ties.
The fit is spot on, as I'm a perfect 38R in their contemporary fit.  I really do love the Spier & Mackay Neapolitan fit, even if it is more of a modern aesthetic, mainly in the lapel treatment.  Other than that, it's a lovely 3-roll-2 with patch pockets ready to be #fisted; the soft shoulder has some gentle gathering and the body itself is half-lined, making it have a lot in common with my vintage sack jackets.
The cloth is quite nice and is definitely a soft flannel, making it a much more wearable than the heavy tweeds I bring out in winter. I do own a few vintage flannel jackets, but the fabric from Fox knocks it out of the park. It's just so soft and light, which is perfect for cold weather in LA.
If I was being picky, I'd say that I wish the color was darker, though this might be the darkest brown checked cloth I've seen RTW in a long time.  You guys know that I love a good dark, chocolate brown, so I'm a bit biased.  This is still pretty damn good but it does make me reconsider my trouser choices.  I'll admit it and say that I don't particularly like it that much with the grey Stoffa trousers pictured above, since there isn't much contrast; the peached cotton is also a bit flat overall.  That's simply results in the fact that dark colors tend to be much more versatile than light.
It's certainly a great match for denim, but then again, most brown jackets are.  I do like the ideas in this outfit, but I think I misstepped again by using a light sweater vest, which stands out just a tad much in my opinion.   When looking it as a whole, it certainly feels in line with something from Drake's or any neo-ivy outfit. You can also see that the brown checked cloth meshes well with chambray shirts and subdued foulard ties.
This might certainly be the most quintessential "Ethan fit" from this whole blog post, don't you think?  Learning my lessons from the other fits, I went with my favorite pair of flannels: a thrifted pair of Polo RL with double reverse pleats and a high rise.  The shade of dark grey (charcoal-ish?) is probably the perfect shade in my eyes and has been my main since I thrifted it back in college years ago.  I'm very happy it fits.
The flannels work well with the jacket, making for a dark, mature (or somber?) palette. Instead of a blue stripe spearpoint or even my chambray spearpoint workshirt that I wore with my corduroy suit, I opted for this Levi's sawtooth westerner, picked from a recent Rose Bowl Flea excursion.  I am unsure of the age, as it doesn't have an LVC or a mainline label on the inside, but it seems to be a good reproduction of what I'd expect (I'm no expert on Levis or western wear) a vintage sawtooth to be, mainly due to the long tails and spearpoint-ish collar.  Spencer has a similar one from Doug, but mine was treated differently by it's previous owner and the denim has softened up considerably.
It's remarkably similar to the Bryceland's ones, but we'll get more into sawtooths at a later time.
Wearing it with a tie as a dress shirt is something I am no stranger to (as you recall, I love wearing chambray and denim spearpoints/OCBDS).  Because this one has a bunch of fancy details (the yoke and sawtooth pockets), I felt that a foulard wasn't the right way to go. A black knit tie was fine, again playing into the somber colors of this outfit.  The saturated blue of the denim is different than a typical chambray or oxford, but it works just as well.
It really just goes to show that a brown checked jacket is perfect and can be worn across a bunch of occasions, whether you want a vintage redeux, neo ivy-trad, or even something subtle like this.  This truly is a grail, and one that I have attained.
Conclusion
You better agree with me by now, that brown checked sportcoats are fucking great.  Brown already is a great cloth that is comparable to navy in it's sartorial versatility, but it doesn't stop there.  Whether it's a houndstooth one or a great plaid (especially in a dark brown base), it will serve your wardrobe greatly.  For me, it will always be connected to my vintage past, gracing the bodies of Golden Era Actors and illustrated men a like, providing great contrast to grey/cream flannels and playing with striped shirts and patterned ties. Even a few guys today, like at The Armoury or Bryceland's, seem to agree with me.
It's just unfortunate how rare it is for the regular guys.  Obviously it's easy when you go for a great brand like Drake's and Anglo-Italian or to simply commission it from a bespoke tailor, but I can't really afford to do that and be a responsible 24 year old.  It's probably because regular places think that the classic checks I was after look too "old" for their clientele.  I remember always checking Suit Supply year after year when I was younger, expecting the perfect one to pop up.
Of course, cloth matters too! Plaid definitely looks better on tweed and heavier fabric, which adds another wrench into my sartorial California life.  I definitely conceded a few times based on price and cloth, evident in the jackets I own, but I soon convinced myself to stay true to my convictions: the next jacket I would buy would have to be the perfect one. Luckily I found that in my new Spier & Mackay brown plaid jacket in Fox Bros. flannel!
It's served me well so much, allowing me to dress in all the outfits I had envisioned in my head ever since I started vintage collecting. It certainly is on track to being the right color and right plaid for maximum versatility; it's un-fussy overall and not too bold!  The weight is great for anything below 75 here in LA, which means I'll be able to wear it quite a bit before shoving it into a plastic box.
I would lie if I said I was 100% h-a-p-p-y.  The real Ethan grail would be made from something extremely open like Crispaire.  Because dark/muted plaids and light fabrics are a bit of an oxymoron (and you know I prefer wool or cotton over linen) , I may be on the hunt for a long time. It may just mean that I'll have to bite the bullet and formally commission something.  But at least for now, I have the cold-weather version of that grail.
My brown-checked jacket presently reigns supreme.  Sorry Brooks sacks, you're gonna have to take a seat.
Always a pleasure,